Useful information
Electricity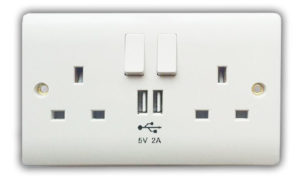 Bequia has a 220 volt (50 cycles) electric supply with UK style plugs as standard. We supply adaptors in all rooms that convert our plugs and allow you to use American and Canadian style plugs. Our adaptors do not change the voltage, but most small devices e.g. mobile phones, laptops, IPhones and IPads are dual voltage (110v-240v), and can be used with our adaptors. USB charging points are also supplied in our rooms allowing you the convenience of charging many electronic devices without having to bring bulky charging accessories in your luggage. Should you have larger appliances that you wish to bring we can turn on our 240v-110v transformer that supplies 110 volt current to some American style sockets in your room. Please note quality hairdryers are supplied in all rooms so you do not need to bring these.
Internet and TV
High speed internet is available in all areas of Tropical Hideaway. We have our own networked entertainment system which provides access to the latest movies, popular television programmes, series and documentaries. All rooms have large, High Definition, flat screen TV's and programmes are High Definition and advert free. Music and radio is also supplied through this system. There are no additional charges for Internet or our TV system.
Mobile Phones
We have a complimentary guest phone which is kept down by the Pool Bar. This can be used for calling taxis, booking restaurants and other local calls. If your phone is unlocked you can also buy an inexpensive local Digicel SIM card (around 25ec) and use it in your own mobile device.
Driving / Driving Licences
If you are renting a vehicle on the island you will need to get a local Driving Permit. These are available from the Revenue Office in Port Elizabeth and you will need a valid Driving Licence from your own country. A payment fee of EC$100 (about US$ 40) is required for the 6 month temporary permit. If you are renting the vehicle from Tropical Hideaway we can arrange your driving permit on your behalf. Driving on Bequia's narrow roads is on the LEFT.
Visas/Passports
Entry Visas are not required for American or Commonwealth citizens, or for those nationals of a country which have a visa exemption agreement with St. Vincent & the Grenadines.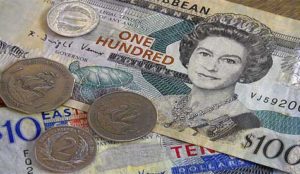 Currency
Bequia has one bank and two ATM machines for drawing out cash. Queues inside the bank can be long with waiting times often exceeding an hour. For the convenience of our guests we offer an exchange service at Tropical Hideaway and many of our guests take advantage of the special rates offered below.
US dollar.
The US dollar is fixed at a rate of 2.67 EC dollars to 1 US dollar. (100 US = 267 EC). Most places on Bequia (restaurants, taxis, shops etc) will accept US dollars and they will usually exchange at a rate of 2.5 e.g. 100 US = 250 EC. We provide a currency exchange service at Tropical Hideaway and can offer a very favourable rate of 2.6 e.g. 100 US = 260 EC.
£ Sterling.
Sterling cash has an excellent exchange rate at our banks and we can also offer a very good rate of exchange for £ sterling. The Post Office in the UK offers an easy to use online currency exchange service and we can offer the same rate plus we will give you an extra 2.5%.
Population
Numbering around 6,000 with many descending from of an intriguing mix of native Bequians with African, Scottish, Irish, French, Indian and Carib descent. Many can trace their ancestry directly back to the islands earliest inhabitants of the 18th century. More recently settlers have arrived from the UK, Europe, America and Canada and have chosen to make Bequia their home. English is the native language, and open friendliness is a characteristic for which Bequians have always been well known.
Government/Legal System
St. Vincent & the Grenadines became independent from Great Britain in 1979, while remaining part of the British Commonwealth. The Governor General is the representative of the British Crown, and is appointed by the Queen, on the advice of the Prime Minister. St. Vincent's legal system also reflects the country's British heritage and is based on British Common Law.
Clothing
Bequia is an informal island so travel light. Even the best restaurants are fine with smart casual. Bring a pair of lightweight long trousers for protection against bug bites and a long sleeve shirt and hat for protection against the sun. (Essential for island boat trips).
Safety and Security
Bequia is a friendly and welcoming island where the pace of life is relaxed and easy going. The Islands have a long history of harmony among it's many nationalities. There are no religious or ethnic tensions and the islands flourish with a population just wanting to get by and enjoy life. Explore the back streets, frequent that little bar where the locals drink and don't be surprised if you are greeted with a warm "Hello" as you walk in. Bequia is one of the safest, most friendly, laid back and genuine islands in the Caribbean, but as in all areas around the world, don't invite crime and be aware of who is around you. We can all help to keep the islands crime free, so please remove temptation and never leave valuables at the bar, on the beach or in the car.
Health
Bequia is one of the safest islands in the Caribbean with very few health concerns and no vaccinations normally being required. The water is safe to drink although bottled water is available if you prefer. Our food is healthy, flavoursome and nutritious and is freshly prepared using locally sourced ingredients. A healthy respect for the sun is essential as even in overcast conditions the sun can burn the unsuspecting visitor within a few hours. When buying sun tan creams please do not purchase the P20 brand as this cannot be used at Tropical Hideaway due to the serious damage it can cause to our bed linens, towelling and furniture.
Other self inflicted dangers include alcohol which can be very strong and is often used in very tempting Caribbean cocktails such as the local 'Rum Punch' and the locals who will profess their undying love for any lady, young or old, who merely glances their way.
Being a fairly dry island with a low population density, Bequia is not the ideal breeding ground for mosquitos. Julie and I have lived here for over 20 years and our 3 daughters have racked up a similar number of years between them and none of us have ever had an illness relating to mosquitos. Two years ago we heard of Chikungunya, a mosquito borne disease we couldn't even pronounce the name of. It's arrival was as sudden as it's departure and it came and went within a few months. We took sensible precautions, slept in screened rooms, used mosquito repellent when going out in the evening and made sure there were no areas of standing water that could provide the mosquito with a breeding site. Although not life threatening, some people on the island were infected and had joint pain, itchy rashes and fever. None of our guests were infected and we put this down to the information we provided to our guests, our screened rooms, our complimentary insect repellent and our proactive stance against the disease.
Zika Virus
Now we are being warned of the Zika Virus. Another unknown risk which is likely to spread to many parts of the world. Even the USA and Europe have confirmed cases. The main risk is for pregnant women and perhaps if you are pregnant or feel you may become pregnant during your vacation then you should probably avoid all areas in the world which now have the Zika Virus. If you do not fall into the 'pregnancy risk' category then any risk is extremely slight with many people not even knowing they have had the virus.
Sensible precautions should be taken as follows:
Only sleep in accommodations that are fully screened against mosquitos. (A net over the bed is not enough as this species of mosquito is active both during the day and the night)
Use an appropriate mosquito repellent as required. Although Tropical Hideaway does not have many mosquitos we do supply complimentary repellent in all our rooms which can be used as required.
If you are visiting an area that may have mosquitos, cover exposed skin by wearing long sleeved shirts and long pants etc.
The best thing you can do is to keep the amount of mosquito bites to a minimum. This will decrease any risk substantially.
Although the Zika virus is not yet a problem on Bequia we feel it will inevitably spread though all the Caribbean Islands and many other parts of the world so we think it best to be proactive in the advice that we give to our guests in minimizing any risks regarding this virus.