Island Life
'Beautiful Bequia (pronounced bek way) is an undiscovered paradise, the Caribbean of 30 years ago. Covering an area of just 7 square miles and with a population of only 6000, Bequia lies in the warm tropical waters of the Caribbean Sea. It is just a short plane hop from the ever popular Barbados and next to the renowned Mustique, both favourite islands of the rich and famous. It is the largest of the Grenadine Islands known also as the 'jewels of the Caribbean' and is blessed with several pristine, white sandy beaches many of which are totally natural and undeveloped. The recently renovated Belmont Walkway joins three of these beautiful beaches together and meanders around two headlands offering both excellent snorkelling and a leisurely 2 mile walk passing rum bars, cafes, restaurants and small boutique style shops.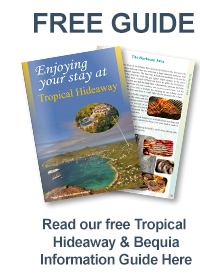 Bequia truly is a unique Island. Large enough to be interesting and exciting, yet small enough to retain its local charm and uniqueness that only a small 'off the beaten track' Caribbean Island can offer. Wherever you go on Bequia, you will be given the warmest of welcomes. They know you are here to relax and everyone is happy to help you have the holiday of a lifetime.
If you want resort hotels, nightclubs and beaches full of sunbeds, don't come to Bequia. If you want to discover the undiscovered, visit our beautiful Island, enjoy the uncrowded pristine white sandy beaches, swim and snorkel in our safe and warm Caribbean waters and experience the genuine friendliness of the local Bequian people.
What more can we say …………. Come see for yourselves!
We now have available a free 48 page guidebook with information about Tropical Hideaway and the island of Bequia. It has detailed information about local services, the fun things to do on Bequia, our local restaurants, day trips to nearby islands and a wealth of other information invaluable for anyone intending to visit our beautiful Island.
Bequia versus Barbados
Hunter Davies from the UK newspaper 'The Daily Mail' wrote a light hearted article on the choices between the two Islands. After 29 years of holidaying in Barbados is he now going to change to the nearby island of Bequia ? You can read his report here.