Wellbeing
Living on a small island in Paradise, we have an abundance of natural resources available for our wellbeing. There are 3,000 miles of ocean between the continent of Africa, which is where our prevailing winds originate, and Bequia so our air is pure and unpolluted. The water in our tanks comes from rainwater which is filtered and is not polluted with fluoride or chlorine and it tastes great!
Fresh salads, fruit and vegetables are grown in St Vincent and arrive on the morning ferry to fill the various market stalls. Fresh juice is poured straight from the young green cocnut, coconut oil for cooking is readily available and both are very healthy for you.
Most Bequia restaurants offer 'fish of the day' which is caught and cooked fresh — you can't get better than this. If you are in the harbour at the right time you may see the fishermen come in with their catch which they sell and fillet for you. Everything is freshly cooked — you will be hard to find any processed food here.
Most locals walk everywhere, keeping them fit. There are lots of walks on the island suitable for everyone's capabilities from a gentle stroll to a good hike. If you are into jogging, the road from Spring to Park Bay is a short ride away and an ideal area with a fairly flat road. The Mount Pleasant loop has more inclines but is very do-able. No need for a treadmill here!
Of course, to do any the above, you will need to leave the seductive Infinity Pool at Tropical Hideaway first!
If you want to slow things down to a more relaxed 'pace' many of our guests enjoy yoga which is available on the island from beginners to advanced and to suit all ages (see below). For a small island, there are also several massage (and beauty) therapists available (see below).
Yoga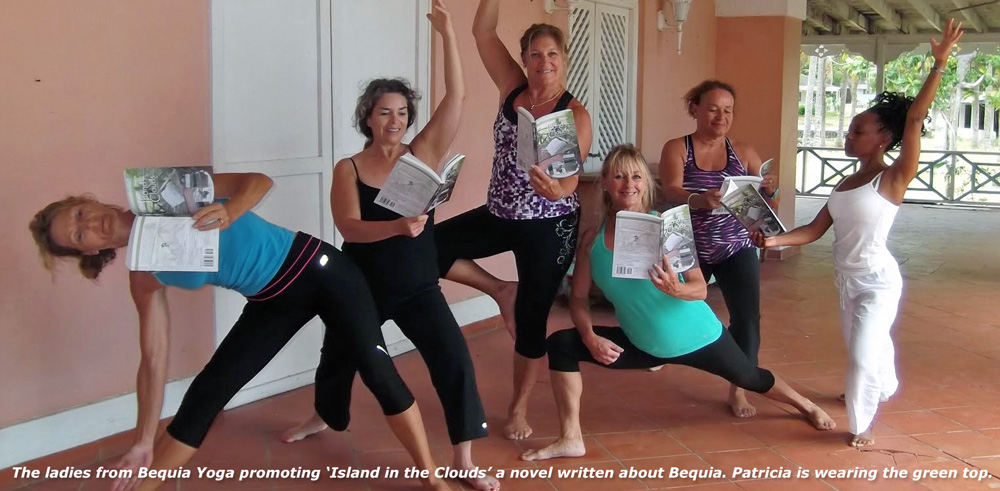 Sati Yoga by Patricia
Everyone loves yoga and we are lucky to have Patricia Healey on Bequia who takes classes of all levels, so if you are are an expert or just want to 'try it out', look for her adverts in 'Bequia this Week' or call her on 455 4565. If there are enough of you, she will happily come to Tropical Hideaway to give private lessons.
Patricia Healey has been practicing and teaching yoga for more than 25 years. She is a certified Yoga Instructor.
Tel: 455 4565
Facebook: https://www.facebook.com/enlightenedachievement/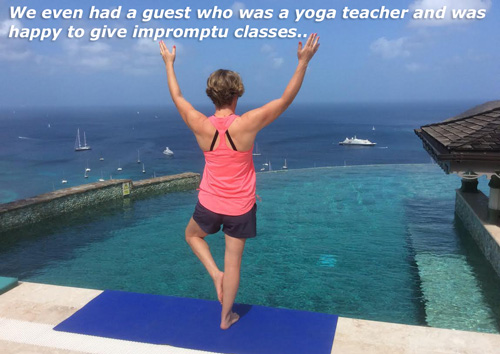 Spas

For a small island, Bequia knows how important it is to look after one's body. There are several spa's and massage therapists available to offer all types of treatments.
Sunny Spa
Conveniently located above Jack's Bar on Princess Margaret Beach, Dani was one of the first therapists working on Bequia and has over 10 years of experience. In addition to full body, deep-tissue, Indian head massage and facials she also offers reflexology, reiki, ear candling and various beauty treatments too. From manicures and pedicures to acrylic full sets, both eyelash/eyebrow tinting and body waxing.
She can also offer treatments at Tropical Hideaway if you prefer.
Call Dani on 529 1607 or 455 5215
Email: danielle@collinson.fr
Team Truland Massage
Nate's desire is to use all that he has learned about massage in a holistic and therapeutic manner to bring your body back into alignment, leaving you totally relaxed. He offers many different modalities including: Deep Tissue, Swedish, Myo-Fascial Release, Trigger Point Therapy, Refexology, Sports Injury and Management, Pre-Natal, Spa Modalities, Some Thai and Shiatsu.
He also works with a female therapist to offer:
Couples Massage: massages done side by side.
Dual Massage: two therapists working on the same body.
Chair Massage: offered for target areas or deep specific work. He is based at Lower Bay but is happy to offer treatments at Tropical Hideaway.
Tel: 526 5256 or 458 3944
Email: teamtruland@gmail.com
The Spa at Bequia Beach Hotel
Monique runs the Spa at Bequia Beach Hotel and you can make a reservation by calling their reception.
Tel: 458 1600
Email: reservations@bequiabeach.com
Serenity Day Spa
New to Bequia is the Serenity Day Spa which is based at the Tradewinds Marina at O'Car.
Tel: 532 2559
Email: serenity_dayspa@yahoo.com
Serenity Day Spa facebook page