Beachfront & Island Walks
One of the best ways to explore Bequia is on foot and there are several walks which are worthwhile doing. Bequia is a fairly mountainous Island and is mostly covered with natural forest. There are several walks suitable for all ages and abilities ranging from the downhill walk from Tropical Hideaway to one of the main beaches (around 20 minutes) to a relatively flat walk from Park to Bullet Point (90 minute return) to the walk up to Peggy's Rock one of highest points on Bequia. Walking consists of bush walks, forest trails which are narrow but easily followed, to walking on seldom used small country roads which will take you deep into the heart of the Island. The Belmont Walkway is also very popular and this is a 'must do' for anyone visiting Bequia.
Belmont Walkway and Princess Margaret Trail
(can be done in 30 minutes but usually takes a few hours as there are so many interesting things to see).
The recently restored Belmont Walkway is a 'must do' walk for anyone visiting Bequia. Restored in 2012 by Action Bequia this stunning beachfront walkway is now a major attraction on Bequia for visitors and locals alike. The walk starts in town running alongside Belmont Beach passing several bars and restaurants, the two local dive shops, and several small boutique style shops and cafes. The trail has now been extended past the Plantation House and over the headland to Jack's Bar on Princess Margaret Beach. If you walk to the other end of the beach you will find another trail that leads up and over the headland and connects with the road leading down to Lower Bay.
You can now walk close to the shore, all the way from Fort Hamilton round to Lower Bay and beyond…. Over 3 miles of heritage, natural beauty and smiling faces. The new Princess Margaret Trail is not only better than the road or the old path, but it competes with the best of the coastal trails in Barbados, Mustique and other world class destinations.
Tropical Hideaway's own forest walk
(approx 10 minutes one way)
Late 2016 will see our very own forest trail which leads from Tropical Hideaway to the road below. This passes through our own natural forest and down a steep gulley until it reaches the road below. It takes around 10 minutes and is much shorter than walking on the Bequia Estate road which meanders around the private estate. (Do not use after dark or when wet as the path is not lit and may become slippery after rain).
Tropical Hideaway to Princess Margaret Beach
(approx 20 minutes one way)
Turn right out of our drive onto the road, walk to the top of the hill then follow the road (steep in places) down to the T junction. (The left turn is an unused road leading nowhere). Turn right (following the stone wall) and keep on walking down the hill until you get to the main road at the bottom. Turn left on the main road (keep an eye out for the traffic) and after a few minutes turn first right down a bit of a rough concrete road. Go to the bottom of the road and Princess Margaret Beach is on your left. Fay runs a small stall there and is always worth having a chat with. She is very trustworthy. Jack's Bar is on the beach to the right. Alternatively use our brand new forest walk (opening late 2016) and walk down through the natural forest to the road below.
Tropical Hideaway to Lower Bay Beach
(approx 30 minutes one way)
Turn right out of our drive onto the road, walk to the top of the hill then follow the road (steep in places) down to the T junction. (The left turn is an unused road leading nowhere). Turn right (following the stone wall) and after you pass the first house on your left, you will find an old road on your left (more of a track now). Walk down this track to the bottom. (Friendship bus stop). Turn right (towards the Heineken Bar) and after a few yards turn right again, over the brow of the hill, then turn left by the Lower Bay Bus Stop. This road will take you down to Lower Bay. There are several nice and quite inexpensive bars and restaurants in Lower Bay. Dawn's (at the end of the beach) is reported to do a good breakfast and Keegan's has a good barbecue every Saturday night. De Reef is the place to be on a Sunday afternoon.
Tropical Hideaway to Friendship Bay
(approx 30 minutes one way)
As above, but when you get to the bottom of the old road turn left (just before Friendship Bus Stop). Follow this road to the beach. The Bequia Beach Hotel is on the right before you get to the beach and this makes a good lunchtime stop.
Tropical Hideaway to Town
(approx 30 minutes one way)
Follow the instructions for Princess Margaret Beach then take the Princess Margaret Trail to town which starts at Jack's Bar. Alternatively when you get to the bottom of Bequia Estate road, turn right and this road will eventually lead you into town (keep an eye out for traffic). Another option is to follow the road into town and after you pass the Bamboo Chute Restaurant on the left, you can take any of the roads on the left and this will bring you down to the Belmont Walkway which takes you into town along a very picturesque beachfront walk. You will pass the Gingerbread and Frangipani Hotel using this route.
Bullet Point
(approx 90 minutes return)
This lovely walk starts from the quarry at Park Bay and follows the old concrete road as it climbs slowly up following the rugged coastline. The old road gradually narrows until it become a track which winds through mature native woodland interspersed with the occasional orchid. We like this forest trail as you are shaded by the trees and are walking in relatively cool conditions. The path is not too steep and you climb at a fairly easy rate until you reach Bullet point. This is one of our favourite walks and you have a nice view of St Vincent at the end.
Peggy's Rock
(approx 2 1/2 hours return starting at La Pompe)
Peggy's Rock or Mount Peggy is a moderate walk taking around 2 – 3 hours and starts at the small Whaling Museum in La Pompe on the road to the airport. The view at the top is stunning and you can see all of Admiralty Bay with the beaches of Lower Bay and Princess Margaret below. You can also see St Vincent in the distance. The name Peggy's Rock came from the time when Peggy would climb up to the rock and would spot shoals of fish in the bay and signal to the fisherman below where the fish were. She must have been very fit and had excellent eyesight.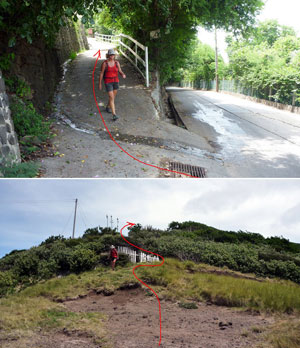 Instructions.
Walk up the small concrete road with the 3 rail white picket fence on the right. Walk to the top of this road and eventually it will turn into a dirt track. You will see a house at the top on your right. Turn left here. Up the hill you will see some utility poles and wires ahead. Go in their general direction and you will come to another, rather hidden house. Leave it on your left and pass round the back and head uphill. The path is faint at first and can be rocky or grassy – just follow the ridge line. When you get to the start of bushes, look for the path, which will become more visible as you get higher.
Ravine Bay and Hope Bay
Take a walk to either Ravine Bay or Hope Bay and you will be rewarded with beautiful views, rugged landscapes and deserted beaches. There is a blow hole at Ravine Bay but Hope Bay is larger and maybe slightly more interesting. Both walks take around 90 minutes return. Take water, sunscreen and a sun hat as there are no bars or shops to be found on these remote off the beaten track sandy bays. Photos of the Bays can be seen under our 'Beaches' page.
Spring Plantation
This plantation was one of the largest on Bequia and is still a working one, now growing mainly fruit. The Firefly Hotel, present owner of the plantation, is built on the foundations of the 18th century estate house. The ruins of the old sugar mill are still standing. They offer an inexpensive tour of the plantation and your guide will offer you fruits etc as you walk around.
Some things to look out for
You can sometimes find our native land turtles wondering around the bush. Hearing a rustling sound is a tell tale sign. You may also be lucky and find an Iguana sunbathing on a rock.
Guided Walks
There are a couple of guides available to take you on some walks around Bequia. If you really want to get off the beaten track and discover some walks not usually used, have a chat with one of the guides below.
Some things to avoid
There are no real dangers in Bequia but be careful of the 'Brazil' plant, Latin name (Comocladia Dodonaea) If touched it will cause severe itching followed by blistering a few days later. We found out the hard way as we cleared our own land ourselves and had no idea about this poisonous plant that has leaves that look a little like a small holly leaf. We grabbed at everything in sight, without gloves and without a care in world. Julie suffered quite badly and it took her a few months to fully recover.
Always take plenty of water with you, wear sensible shoes, take sunscreen and a hat and if you're going on an adventurous walk, let us know your plans before you leave.