Arts and Crafts
Bequia is blessed with many talented people who are Bequia or St Vincent born and have learnt their trade from their forefathers or are self taught.
There is also a large group of overseas visitors who have discovered this island on their travels, found that they just had to be part of the wonderful vibe this island gives and had to return 'home' to settle down here. All are inspired by the beauty and colours of the island, the Bequian people and it's maritime history.
There are so many more skilled and accomplished artisans to chose from, some live here full time, some come here in the busier months only, some come only when their 'other life' commitments allow and I am just listing a few below.
Arts
There are many artists residing on the island, each with their own unique style. If you are moved by a painting in one of the many restaurants or hotel lobby's, ask who the artist is. The chances are they live at La Pompe, Belmont, Paget Farm or Spring. If they do not have their art exhibiting in one of the galleries any taxi will take you to their studio to see if they have other items available to purchase.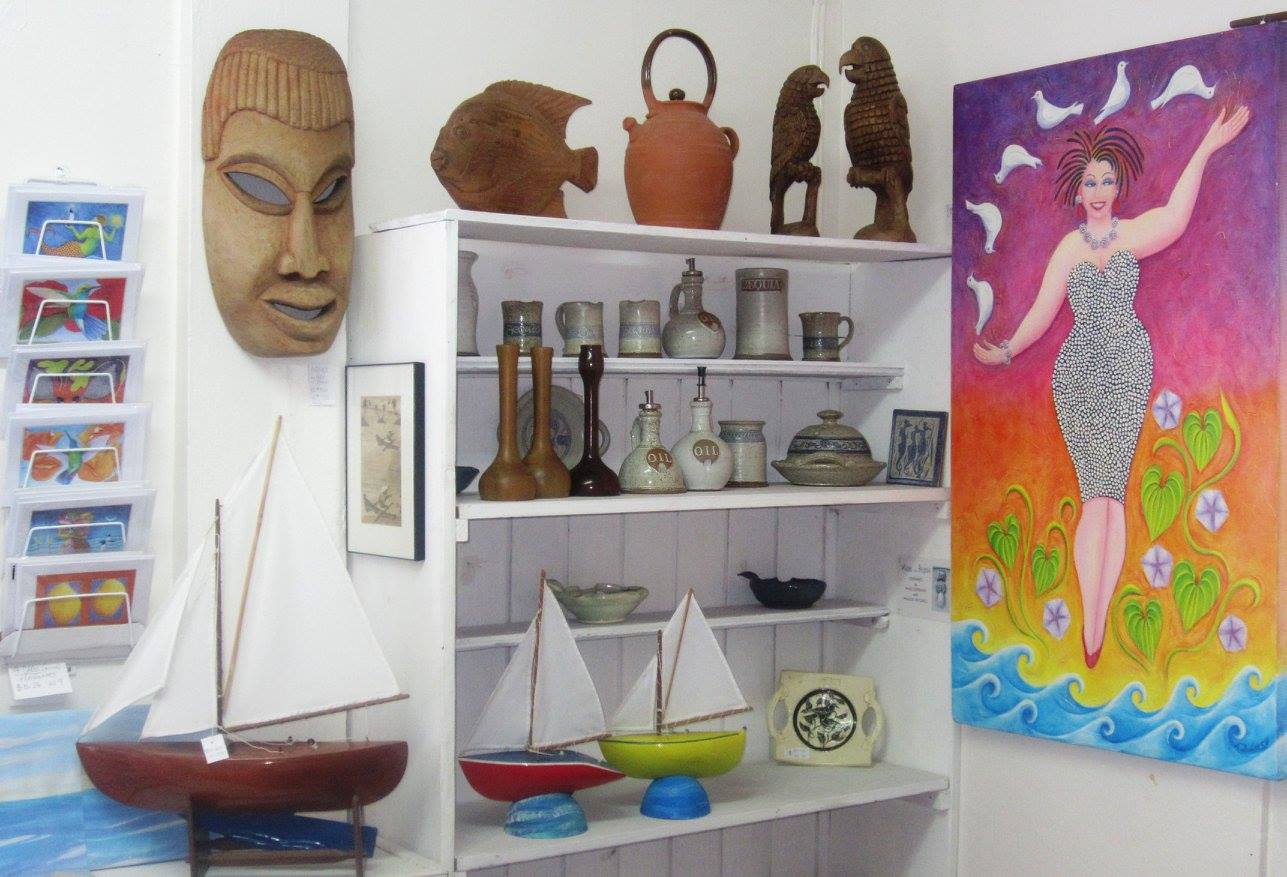 Oasis Art Gallery
Oasis Art Gallery, run by Leslie D Lucy who spends her 'quiet' time creating new paintings for her gallery which is very popular and always busy. Besides her own paintings, she loves to exhibit and sell items of other local artists and artisans.
Intermingled with her bright and colourful paintings you will find hand made jewellery, model boats, pottery, carvings and much more. Leslie regularly holds new exhibitions throughout the season and her gallery is a 'must visit' place. Check out the Oasis facebook page for her latest exhibition.
Photo right: Some of the many crafts exhibited and available from Oasis Art Gallery. Look out for the guinea fowl paintings on the wall outside – you cant miss them!
Mango Tree Studio
Mango Tree Studio is found close to the turn to the Gingerbread Hotel and is run by Julie Savage Lea. You can always spot Julie with a flower in her hair. Her book 'Bequia Reflections' is available at the Bequia Bookshop, together with her second book 'Bequia – The Feast of Colours', written about her good friend and fellow artist Peter Carr.
During the Winter months, Julie takes weekly watercolour art classes at the Sugar Reef and you are very welcome to join her.
Pottery
Pottery Studio
Pottery Studio is run by Mike Goddard who is an English potter whose energy and ideas inspired the conversion of the old Spring sugar mill into Bequia's first working pottery and gallery over ten years ago. The pottery is now located at in Level (look out for the sign on the way to Spring) where Mike and Maggie can be found creating domestic stoneware pieces, vases, garden pots, and beautiful and interesting pieces inspired by his architectural training.
It will be hard to visit and not come away with something! He spends the season in Bequia and the Summer months in France and the UK. If he is not on island, his pottery can be found at The Oasis Gallery.
Model Boat Shops
Model Boat Shops
Mauvin's Model Boat Shop and Seargent's Model Boat Shop have a team of skilled people who hand craft in their workshops and sell through their shops, model boats made from the gum trees which are native to Bequia. We have some gum trees on our property which are really fascinating. If you are looking for something different and very special as a souvenir from Bequia, these shops are worth visiting. If you have a boat at home just bring a series of photographs of it with you as they take commissions to build replica models. Cheaper versions are available at Oasis Gallery and the stalls along Front Street.
Alternatively, you can purchase simpler model boats from Oasis Gallery and the craft stalls In the harbor.
Books
Bequia Bookshop
Bequia Bookshop is found on Front Street, next to the Anglican Church. This belongs to Cheryl Johnson (Fig Tree Restaurant) and stocks a multitude of books including those from local authors, guides, maps, flags, scrimshaw locally made crafts and lots, lots more. It is well worth visiting and you are bound to find something of interest.
Selma Duncan
Selma Duncan is Bequia's own 'Poet Laureaet' and has written several poet-ry books and children's books. She sells these on her stall opposite the Chameleon Café and Boutique (see following). She recites her poems and is a lovely lady to chat to. If you have young grandchildren or nephews and nieces, have a look at her books about life on this small island. They would make good Christmas stocking/birthday gifts.
Boutiques
You will find arts, crafts and souvenirs in most of the boutiques on Bequia as they go hand and hand. A lot of the jewellery is hand made on the island.
These are just a small example of the variety of boutiques within a two minute walk. There are also many fine shops, stalls and the market which sell locally made jewellery, hats, shirts, clothes and t shirts. You can spend hours wandering around and your morning or afternoon will disappear before you know it.
Solanas
Solanas is next door to The Chameleon and is a treasure trove of clothes for him and her, the children, bags, souvenirs and gifts. This shop is open Monday to Friday as in one of my favourites.
Giggles
Giggles is just a little further along the road and is a boutique run by 'Foxy Roxy' who sells a different style of clothes again. You just have to visit here to see what I mean. If you are looking for feminine, lacy, glittery, glamorous, sexy and something out of the ordinary make sure you check out Giggles. Roxy has clothes to suit all ages and sizes and has lots of other unusual items too.
Chameleon Café and Clothing
Chameleon Café and Clothing is one of the many boutiques on Bequia. If you forgot to pack a bikini, swimsuit or shorts, this would be the ideal place to visit. They sell all the sports brand names that you would find at home in their air conditioned shop. Just order your drink and snack (they serve gorgeous home made cakes), leave your partner at the café and nip in here while you wait.