Honeymoon Reviews
"Perfect honeymoon!"
"The penthouse was absolutely gorgeous! The views overlooking the bay were stunning. My wife and I have stayed at many 5 star resorts with views but this one was definitely the best. The balcony has an over 180 degree view of the ocean and the pictures on the website honestly don't do it justice. The suite and patio are completely private. Inside the suite, the bathroom and outdoor shower were really nice. We also really enjoyed going through their library of really cool travel books and photography books. A really cool highlight that we didn't get to enjoy enough was their digital library of hundreds of movies that you can watch on the outdoor patio. Martin and Julie even offered to put any movie on the bigscreen TV by the pool so we could watch a movie in the pool at night. Unfortunately, we didn't have time to try this out, but it sounded like an awesome experience. There is a kitchen for those who wanted to cook themselves. Overall, a perfect suite, they really have thought of everything and I can't think of anything to complain about!
Regarding the property: The tropical hideaway is a complex of a few villas and rooms owned by Martin and Julie who live on site. The pool is shared among the few villas but the pool is definitely large enough to accommodate all the guests. The pool really was the highlight of the tropical hideaway. The pool was an infinity pool with 270 degrees of infinity wall and view. They also had a swim up bar, multiple stools and a poolside daybed. It really was the best designed pool I've ever seen. We had a great time making drinks in the swim up bar and sipping margaritas in the pool!
Regarding the hosts: Martin and Julie really were great hosts! They were welcoming and helpful throughout our stay. Even though the tropical hideaway is a vacation rental and we didn't expect them to accommodate any of our needs, Martin and Julie were frequently asking us if we needed anything from the grocery store or if we needed a ride downtown etc. They were also extremely helpful in helping us plan activities around the island. We had a great time getting to know them and hearing their interesting stories and can't wait to see them again next time we visit Bequia!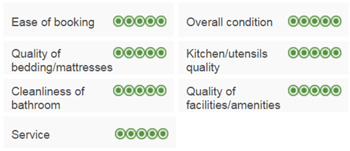 Regarding the island: If you're looking for the quintessential laid back Caribbean island or "how the Caribbean was 30 years ago" then this is the perfect island. My wife and I have visited many Caribbean islands, and this one was the most idyllic so far. The locals are very kind, the beaches are gorgeous and the restaurants were good. My only negative comment would be that this isn't really an island for partying or clubbing as it is pretty laid back and quiet. But if tranquility and off the beaten path relaxation is what you are looking for, then this is perfect.
Overall, 10/10 stay, by far the best accommodation we have ever seen. Amazing experience and great hosts. Definitely come here!
"Beautiful, relaxing honeymoon"
We could not have asked for a more relaxing honeymoon in a more beautiful location. Tropical Hideaway and the Hibiscus Cottage were perfect for us. Our criteria for our honeymoon destination included:
non-touristy location
not too expensive
plenty of privacy
excursions and restaurants when we wanted to go out
exotic beaches
a swim-up pool bar (oddly specific, I know, but I've always wanted to use one)
Tropical Hideaway and Bequia checked all of these boxes and ended up far exceeding our expectations.
The Hibiscus Cottage was perfectly appointed, spacious and secluded and it's clear that Tropical Hideaway's owners, Martin and Julie, thought of everything their guests could want or need. It was incredibly helpful (and relaxing) to arrive to a fully-stocked kitchen and refrigerator too. They were even sweet enough to include a bottle of bubbly for us! The cottage's patio has a stunning panorama view of the bay and we spent a lot of time enjoying the breezes, reading in the hammock chair, admiring the sunsets and dining al fresco out there. Martin and Julie were excellent hosts and at every turn, I was very impressed with their attention to detail. Whenever we needed anything, they were ready to help. They gave us complete privacy yet warmly greeted us when we saw them at the pool or came knocking at their office with a question. They even invited us and the other couple staying at TH for an evening of rum punch and nibbles on their patio overlooking the infinity pool and bay. They're leading such an interesting life, it was wonderful to have the chance to kick back and chat with them. We also loved their sweet pets, Missy the dog and the three Bengal cats.
they'll leave you alone if you want your space but are more than happy to interact with you if you'd like. Missy happily accepted belly rubs from us on several occasions!
Bequia was easy enough to access from the east coast of the U.S., taking us about 14 hours from our front door to the front door of Hibiscus Cottage. The island itself is still a bit of a hidden gem (and a few fellow vacationers encouraged us to not tell our friends about it, in the hopes it stays hidden). Bequia offered the beautiful blue, clear water I imagined of a Caribbean paradise and lovely beaches…but we had them almost entirely to ourselves! There were maybe a few other couples or people strolling along the water each time were there, but otherwise it was like being on a private beach. As someone with fair, easily burned skin, I appreciated too that the beaches all offered shade trees, set back from the water. 
Prices for most things in the grocery stores (we shopped at Doris' and Knights) were pretty reasonable and we didn't end up spending as much on food and drinks as we anticipated. Ate out a few times and most enjoyed Sugar Reef on the other side of the island in Industry Bay/Crescent Beach. Beautiful setting, delicious fish roti and strong (yet oddly inexpensive) rum punches. We also took an excursion one day on a motor boat out to the Tobago Cays and Mayreau; it was definitely a highlight of the trip to snorkel with giant sea turtles in their natural habitat.

A few things we'd recommend for anyone planning to stay at TH:
Read the incredibly helpful booklet Martin and Julie wrote for guests and placed in each room. It's chock full of information about Bequia, excursions, tipping practices, how to use the in-room TV/movie system, dining options and hundreds of other helpful tidbits. There's also a fascinating photo book tracing the building of TH over eight years.
Pack more sunscreen than you think you'll need and a water shirt/shorts if you plan to snorkel. Sunscreen is very expensive on the island and the sun is strong.
Comfortable walking shoes are strongly recommended for the hilly walk to and from TH and town. You could take a taxi for approx. US$12 each way, but walking helps burn off all the pina coladas.
Bring your own peanut butter or any other food item you can't live without. Certain imported things (like my favorite, peanut butter) cost a small fortune in Bequia.
We are so happy we chose to honeymoon in Bequia and stay at Tropical Hideaway's Hibiscus Cottage. It was everything we wanted plus so many more pleasant surprises. I'm excited for anyone who still has their first trip to Tropical Hideaway ahead of them and I can't wait to make a return trip some day to discover even more. Thank you, Martin and Julie!