Dining in at Tropical Hideaway
Tropical Hideaway is a self catering establishment but we do offer several dining options for eating in at Tropical Hideaway.
Private self catering accommodation
All our rooms have kitchens fitted to the highest of standards allowing you the option of preparing some meals at home or to dine out at some of Bequia's colourful restaurants when you choose. Kitchens have a minimum of a 2 burner gas hob, full size fridge, sink unit, Ice bucket or ice maker, combination microwave oven and grille, toaster, kettle, Moka expresso maker, cafetiere, professional quality pans, knives and cutlery, fine china crockery, glasses, chopping board and a new wipe down sponge and cloth. (See individual accommodations for additional kitchen appliances not listed here).
Accommodations also have large private verandas with teak bistro dining tables and chairs allowing you the convenience and ambience of dining Al fresco style and to enjoy the stunning views and intimacy of the moment.
Your first night here
Most guests enjoy a couple of Martin's rum punches and relax by (or in) the pool with a glass of wine or a couple of cold beers. Food is usually a take away meal from Mac's Pizza and this is a good option for your first night if you are too tired to explore the island. We are not particularly pizza fans, but hand on heart, we can honestly say Mac's is some of the nicest pizza we have ever tasted….anywhere!
Ready to serve meals
Good home cooking allowing you the convenience of enjoying a meal in your room with only the minimal amount of time and effort involved.
Using only the very best of ingredients we have several tasty recipes which we have tweaked a little so they all have a colourful Caribbean twist. All are prepared and cooked by us, put into generously portioned serving dishes, vacuum packed for freshness and placed in our freezer ready to be enjoyed by our guests.
Takeaway meal delivery service
Fancy a meal by the pool, or even in the pool. Maybe you fancy a night in and just don't want to prepare food or go out. Here are two restaurants which offer a great takeaway service and we have arranged with our taxi drivers for a collection and delivery service straight to Tropical Hideaway. All prices are in EC dollars and include 15% vat.
How it works
Call the restaurant and place your order saying it's a takeaway for Tropical Hideaway.
Ask the total price and how long it will take to cook.
Tell them the taxi will pick it up in ?? minutes. (your agreed time)
Phone one of our local taxis and tell them the total price and the collection time
Add 15 minutes for the delivery time and meet the taxi by the gate.
Pay him the money for the meal and the additional cost of the taxi (leave a small tip if you wish)
Tropical Hideaway licensed shop
Tropical Hideaway has a licensed shop selling everything from breakfast cereals to bottles of champagne, from a fillet of blue marlin to a USA prime rib eye steak. You can enjoy locally brewed beers to premium quality hand made burgers and sausages. Everything from a chilled bottle of wine to a loaf of bread is available from our shop and our our prices are based on local store prices allowing you the convenience of a hotel with the prices of a local supermarket. You can download our onsite shop, food and beverage book here.
Tropical Hideaway BBQ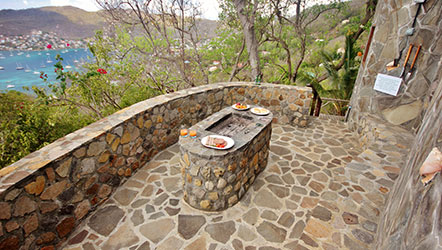 The barbecue area is at the front of the Infinity Pool and can be found on the left hand side as you pass through the stone archway. Here you will find a large charcoal barbecue with complimentary, locally produced charcoal. The best way to light the barbecue is to put the charcoal in the grille, light the charcoal with the gas lighter, open a couple of beers and leave the grille for 30 minutes. When you return, it will ready to use and just the right heat. Alternatively you can ask Marlon our gardener to light the barbecue for you. All the cooking utensils are at hand and we even have a machete for opening up any lobster shells. There is a wall light (by the utensils) if it's dark.
Whether you are grilling a steak or a fillet of tuna, a couple of sausages or a burger, the views and ambiance from the barbecue area are amazing and the food tastes so much better having cooked it yourself on an outside charcoal barbecue.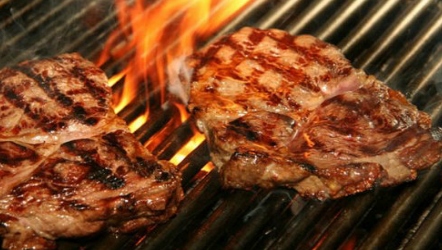 Our onsite shop has an excellent selection of fish and meats (just perfect for the barbecue) ranging from the very best USA rib eye and excellent local steaks to a wide range of locally caught fish. We usually have Tuna, Dorado (mahi mahi), Blue Marlin and Swordfish available and also have some top quality sausages and burgers made especially for us with local herbs and seasoning for that Caribbean twist. You can download our food and beverage pdf book, by using the link above. As always you are very welcome to bring your own beverages and food to cook on the barbecue.

Beach barbecue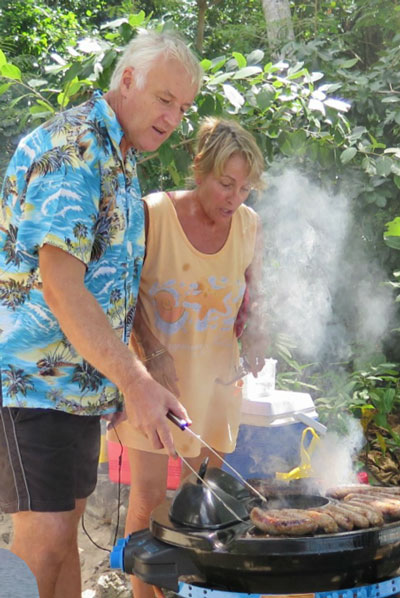 Fancy a fun day on the beach with snorkelling, kayaking or simply relaxing with your new found friends? With minimal cost and a little help from you, we can organise a barbecue and great day out. Have a chat amongst yourselves and if at least 6 guests would like a beach barbecue please let us know as soon as possible. We would ask everyone to bring a pot luck dish to help with the food. A salad bowl, pasta or rice dish or one of your own specialities, anything to accompany the barbecue is very welcome. We'll bring everything else down including the meat and fish, a few crates of beer, soft drinks and some rum punch. We'll also bring chairs and a table, the cutlery, dishes and glasses, a cooler box with ice and our two Ocean Kayaks.
The costs work out at 100ec per person which covers the chicken drum sticks, sausages, burgers and bread rolls, fish for any vegetarians, water, soft drinks, a couple of crates of beer, rum punch and a days pay for one of our staff.
There is a lot of work in preparing for a beach barbecue so a few days notice is appreciated. Please note we make no charge for our time or for the kayaks.
Pot Luck lunches and dinners
Would you like to chat with Martin and Julie and join us for lunch or dinner? We often find that guests would like to have an informal evening both with us and with other guests in residence. Although we are not a restaurant, if everyone would like to join in for an evening of fun we could host an evening with a little help from yourselves.
Two suggestions.
We would prepare the dining area and Martin would serve one of his Pina Colada specials.
Option 1.
We would prepare and cook the meat or fish either on our barbecue or using our special 'Hot Lava Stones'. We would also provide one of the following deserts. Julie makes an amazing English Trifle that is very popular with our guests and I have an equally amazing, Cinnamon Roasted Pineapple dessert with rum and ice-cream. We would ask you to supply the starter and a pot luck dish to accompany the meat or fish and to bring a bottle of wine. We could have a great evening together, enjoying some lovely food, some interesting conversation and all overlooking Admiralty Bay with the most amazing of views.
Meat would be our 12oz USA prime rib eye steaks served with a homemade peppercorn sauce. Fish would be served with our homemade creole sauce. We could also cook one of our lovely fish pies if you prefer.
The Cost: Fish or fish pie 70ec per person. Steak $100ec per person. Minimum 4 guests
Please note the prices above are based on what it actually costs us to supply the food and to host the evening. We make no charge for our time spent cooking and see the evening as a joint effort by everyone to have a fun time, enjoying good food, in good company.
Option 2. 
If you supply the starter and the main course (doesn't have to be anything too fancy) and bring a bottle of wine, we would host the evening. Our contribution would be to prepare the dining area and lay the table, to supply the dessert, either Julie's English Trifle or Martin's Cinnamon Roasted Pineapple with rum and ice cream and to tidy up afterwards. Martin would also serve some of his special Pina Colada.
The Cost: No charge.  Minimum 4 guests
Elfic the 'Singing Chef'
Elfic prides himself on his cooking and has expressed a keen interest in supplying guests at Tropical Hideaway with a premium selection of local dishes where he can practice and share his enthusiasm for fine quality food. If there are a few couples in residence you may wish to join together and organise a special meal to be enjoyed on our lovely veranda dining table. The views are stunning and the ambience just perfect.
How it works
Have a chat amongst yourselves and see how many would like to join in on this memorable night. Elfic will cook a selection of local dishes with a choice of fish, conch, chicken, beef, ribs, pork and sometimes lobster and goat. He will also cook a selection of local vegetable dishes based on what is in season at the time. Starters are usually a Caribbean soup with the favourite being Calalloo or Pumpkin. Elfic's deserts can be Key Lime, Rum, Pumpkin or Apple and Raisin Pie. You can speak to Elfic direct or let us know your preferences and we will try and organise everything. We will lay the dining table ready for Elfic's arrival at 5.30 and Martin will serve you one of his special Pina Colada's. Elfic will now become your 'Singing Chef' and he will play his guitar, sing and chat to you about his colourful life. Dinner will be ready around 7pm. Please order some wine or drinks from our shop or you are welcome to bring your own.
The Costs
Option 1 (with Martin and Julie)
Food cost. See below $???
The Singing chef $200ec total
If you would like Martin and Julie to join you for dinner we would love to and would suggest that you pay Elfic for the meal and we will host the evening, provide a welcome Pina Colada and serve one of our homemade desserts above.
Option 2 (without Martin and Julie)
Food cost. See below $???
The Singing chef $200ec total
Our charge $30ec per person. (Covers our cost of preparing the table, the welcome drink and tidying up afterwards)
Prices for Elfic's main course (per person)
1 to 5 guests 75ec each
6 plus guests 65ec each
Prices for Elfic's starters and deserts
15ec per person per course.