Car hire, taxis & buses
Tropical Hideaway is within walking distance to most of Bequia's beaches, shops and restaurants with many of our guests choosing to take the downhill walk from Tropical Hideaway and using one of the many inexpensive local taxis for the harder uphill return journey.
Bequia's famous open-backed taxis are well known for their courteous and friendly service and are widely used for travelling around the island. Prices are very reasonable with fixed rates published by the Bequia Tourism Office, but it is always wise to check the fare beforehand. Fares are quoted in EC dollars but you can pay in US dollars if you prefer.
We list three local and highly recommended taxis companies and have agreed fixed fares to and from Tropical Hideaway to most places around the island. You can of course choose any taxi driver you prefer and restaurants and bars will be happy to call a taxi for you. You can also find several taxis waiting under the Almond Tree in town. Visitors usually use the same taxi driver throughout their stay so first name terms are the norm with many lasting friendships being built this way.
Gunno Taxi's
Husband and wife team Gunno and Damaris have 2 vehicles. A regular taxi and a large taxi van. Located at Hamilton.
Tel: 497 5659 or 491 6165
Challenger Taxi's
Sandra and Curtis have 2 taxis and a 5 seater Jeep. Located at Mount Pleasant.
Home: 458 3811
Sandra: 455 9163
Curtis: 455 4216
Gideon Taxi's
This is a 3 taxi family firm and includes Gideon and his 2 sons Jenson and Garvin. Located at Friendship.
Gideon: 458 3760 or 527 2092
Garvin: 530 2907
Jenson: 432 3848
Taxi Fares charged by Gunno, Challenger and Gideon taxis
| | |
| --- | --- |
| Tropical Hideaway to Princess Margaret Beach | $25 EC |
| Macs Pizza food collection and delivery service | $30 EC |
Tropical Hideaway to town
$35 EC
Tropical Hideaway to Lower Bay
Tropical Hideaway to Friendship Bay
Sailors Cafe food collection & delivery service
Tropical Hideaway to the airport
$55 EC
Tropical Hideaway to Sugar Reef and Crescent Beach
The above prices are one way for up to 4 people. Trips after 10.30pm are charged a 50% supplement and after midnight a 100% supplement.
All the Taxi firms above offer island tours and these take around 3 hours. Costs are $35 US per hour for up to 4 people so if you can make up a group, you can split the cost.
St Vincent Taxi
You can use Rodmon our reliable taxi driver for transfers and tours in St Vincent
Tel: 530 7171 or 492 3375
Example Fares:
Airport to Ferry Dock $30 EC
Airport to Blue Lagoon $30 EC
Blue Lagoon to Ferry Dock $50 EC
Dollar Buses
'You can usually hear one approaching as Bob Marley is played through the base speaker system'
Often crowded but never dull. These closed vehicles are the cheapest way to get around to most parts of the island and they regularly pass the bottom of our hill. Pick them up in Port Elizabeth (enquire at the Tourism Office for the regular routes and stop-offs) or simply hail one as it approaches and ask them if they are going your way!
Fares vary from $1 EC – $4 EC per person depending on the length of journey.
Water Taxi's
A fun way to get from town to Princess Margaret or Lower Bay beaches, or even just across Admiralty Bay. You will normally find a water taxi by the main dock in town, or the Frangipani or Gingerbread hotel docks. If there are none in sight just stand at the end of the dock and wave. One will usually soon appear!
Cost is about $15 EC one way, to the beaches, less for a trip across the harbour. Make a note of the water taxi name so you can ask for him again.
---
Tropical Hideaway Car Hire
Tropical Hideaway has a rental car available at a special guest rate from $35.00 US per day.
Toyota Rav 4 Free Sport 3 door Estate
Automatic gearbox, 2 litre petrol engine, Suitable for 2 adults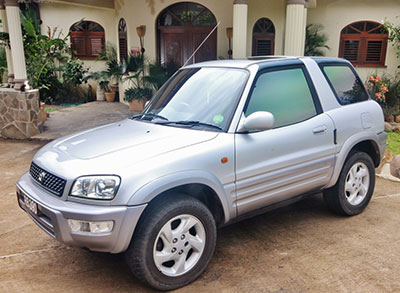 1-2 days
$50 US
3-6 days
$45 US
7-14 days
$40 US
14 days +
$35 US

Special Offer:

Hire the car for 3 separate days and qualify for the 3 day $45 US rate. (Subject to availability)
You don't need a rental vehicle on Bequia but some of our guests do enjoy the convenience of having a rental car throughout their stay. Other guests take advantage of our 3 day special offer and use the car to tour the island for a few days. A local driving license is required and this can be obtained from the Inland Revenue Office in the centre of town. You will need a copy of your driving license and a fee of $100ec will be charged by the local revenue office to provide you with a temporary drivers license valid for up to 6 months. This is a simple procedure and licenses can be obtained between 8am – 3pm Mon – Fri (excluding lunch). If you are renting our car please send us a copy of your driving license and we can arrange your temporary license before you arrive.
Our vehicle is licensed, insured and taxed as a legitimate rental vehicle but please note our vehicle must not be taken to other Grenadine Islands or to St Vincent without our permission.
Complimentary beach chairs, beach towels, cooler boxes, cutlery, glasses, plates etc are available for all Tropical Hideaway car rentals.
Remember to drive on the left hand side of the road.