Boat Charter
Sailing Yacht and Power Boat charters
Bequia has a long tradition associated with the sea, from boat building to fishing, from sailing the Caribbean Islands to Bequian's crewing on cargo and cruise ships around the world.
The Grenadine Islands are an absolutely stunning cruising ground and if you would like to visit another island while you are here, by sail or by power boat, you will be rewarded with an exhilarating experience and a wonderful day out.
As a rule of thumb a day out on a boat will cost around $850 US. That's the boat cost and you can usually have 6 to 8 people on board. If you prefer to travel by yourselves it's fairly expensive but if you can share the cost with like minded travellers the price works out to be very reasonable.
Around half the people staying at Tropical Hideaway would like to visit the Tobago Cays or a nearby island and if you are interested please ask your fellow guests if they would like to make up the numbers for a day trip on a boat. You are welcome to have a chat with us before you start planning your trip as Julie usually has a good idea of what's on offer and who's available as the boat operators often contact us when they are looking for people to join a trip. When contacting a boat owner, always mention Tropical Hideaway and ask them to quote you any special rates applicable to us. Please note we provide the information below purely as a service to our guests and we do not receive any commissions for any trips you may make.
Tobago Cays (World Heritage Marine Park) is the most popular destination and this can either be done on the Friendship Rose (high season only) or a speed boat. A Sailing yacht can make the return trip in a day but it is a long day with around 8 hours of sailing. A speed boat is a much faster option, but you are travelling in the open sea between the islands. Try to choose a relatively calm day for the Tobago Cays trip and the bigger the boat the more comfortable the ride will be. Mustique is another favourite for a day trip and this is an easy option, all be it not quite as exciting as snorkelling with the turtles in the Tobago Cays. There are two other nearby islands, Petit Nevis and Isle A Quatre which are easy to get to and these make for a more relaxed trip where you can snorkel and swim and walk around the island.
Sailing yachts tend to be much larger than Bequia's power boats and usually have much better safety equipment. When chartering any boat please ensure they carry the necessary safety equipment e.g. life jackets, vhf radio, flares, water and a first aid kit. Yachts should also have life rafts and epirbs. A mobile phone is also an important item. All the boats here are listed because they operate out of Bequia and not necessarily because we recommend them. Although we know most of the owners we have not checked the boats personally and as such it is your responsibility to ensure that you are happy with the boat and that it carries the necessary safety equipment.
Any prices quoted are approximate and are in US dollars. Payment should be made direct to the owner in US or EC dollar cash. Most trips include snorkelling gear & drinks.
Warning. You can easily get sunburnt on a boat trip. Use sunscreen, take hats and a long sleeved top.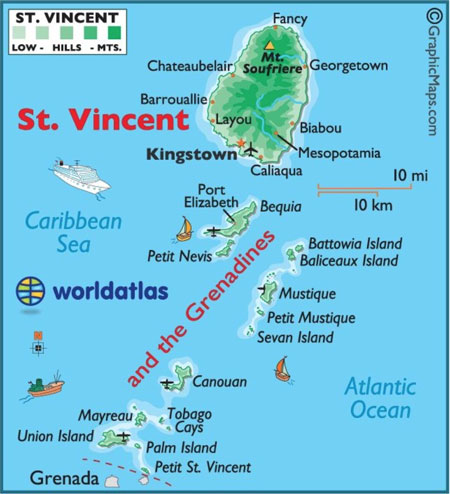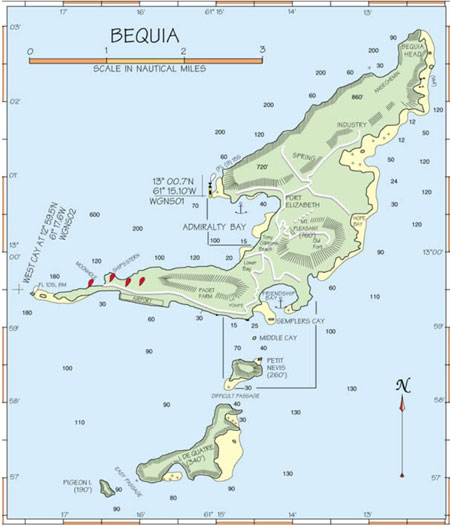 Sailing Yacht Charters
Detailed below are the yachts and catamarans that we know operate from Bequia. Some yachts come and go and other specialize in longer charters. The larger and faster yachts are better for the Tobago Cays with the smaller yachts being ideal for Mustique and the closer islands. Julie usually has a good idea of what's on offer and you are welcome to speak to her first before you spend several hours trying to organise a trip.
Vanishing Sails
Watch the emotive film 'Vanishing Sails' and learn about the traditional boat building skills of the Grenadine Islands. Alwyn Enoe is one on the last Grenadine boat builders practicing a trade passed down for generations by the original Scottish settlers. Alwyn is approaching his 70s and with no more orders coming in he decides to build one last sailing sloop in the hope that his sons will continue the trade.
Visit www.vanishingsail.com and watch the trailer
The Friendship Rose
Tel: 457 3739
An original Caribbean Schooner and a firm favourite with our guests. The Friendship Rose used to be the only ferry operating between St Vincent and Bequia and used to carry cargo, passengers and mail for the Island. We are very lucky that this historic schooner has been maintained and preserved and highly recommend their trips to the Tobago Cays (a World Heritage Marine Park) and the Island of Mustique. The Friendship Rose Operates during the main season only. You can see a short clip of the Friendship Rose sailing the Tobago Cays at the end of the 'Vanishing Sails' trailer above.
Octopus
Tel: 432 5201
Excellent trips to the Tobago Cays and Mustique on this fast and elegant 63' Yacht. will do private charters as well.
Heron
Tel: 527 5042
Ask Twig about his beautiful 65' classic sailing schooner. He offers excellent private charters to the surrounding islands. Based in the Caribbean during the busy season only.

Island Time
Tel: 492 3098
Contact Hervin about day trips on this lovely 42' Jeanneau yacht.
Silent Wings
Tel: 532 4874
Speak to Sally about day trips aboard their 55' Jeanneau performance yacht.
www.silentwingsyachtholidays.com
Imagination
Tel:  528 3051
A 46′ luxurious catamaran with kayaks, scuba and fishing gear. Contact Shawn and Ally.
Impala
Tel:  593 3986
Captain African is an experienced local skipper and welcomes you aboard his 41' Lagoon catamaran.
Sudiki
Tel:  528 4440
Chris and Duff have many years sailing experience and welcome you onboard their 61' Gulfstar yacht. Prices for 4 are $150 US per person per day and they specialize in day sails.
Power Boat Charters
Chartering a speed boat for a day is an excellent way to explore the islands. Prices range from 1000US for 'Petti Cash' (Bequia's best) to 500US for the smaller 'Mako'. Prices are per boat so 6 guests using 'Balliceaux' or 'Rachel' can cost as little as 130US pp for a full day visiting Tobago Cays and Mayreau and maybe some fishing on the way back. Choose a calm day as the trip can be rough in bad weather.
Eclipse
Tel: 530 7604
A small boat offering fishing, snorkelling and sightseeing trips around Bequia. Suitable for up to 4 guests. Ask Yellow for more information.
Mako
Tel: 531 0754
Wayne, an experienced Captain, charges 500US (4 guests) to the Cays or a round island fishing trip $400 (4 guests 4 hours)
Michael Tours
Tel: 455 1154
Michael offers competitively priced trips to the surrounding islands including the Tobago Cays. He is also good for fishing trips
Rachel
Tel: 593 3631
A lovely boat with similar prices to Balliceaux. Raleigh the Captain has access to several other power boats.
Balliceaux
Tel: 496 6147
A private charter to the Cays, Mayreau and fishing costs around $900US for 8 guests. Less for Mustique or small groups. Ask Dwight for his best price for Tropical Hideaway guests.
Fantasea Tours
Tel: 457 4477
Operating from St Vincent with 2 boats. Excellent value and will collect from Bequia if enough interest.
Petti Cash
Tel: 494 3235
The ultimate boat. Prices from 600US for Mustique to 1000US for Tobago Cays & Mayreau. Max 12 people. Discuss your arrangements with Josh.
Jaden Sun Fast Ferry
Tel: 451 2192
Although not a charter boat this inter island ferry offers a fast and efficient service be- tween the islands. Further information can be found under our 'Nearby Islands' tab or visit jadeninc.com