Beaches
Bequia's mountainous terrain provides the perfect backdrop for that perfect Caribbean beach and Bequia does fulfil that dream. Stunning white sandy beaches made from the finest of sands, warm and safe crystal clear waters with exquisite colours of blues and greens, palm trees swaying gently in the wind, pristine and unspoilt with enough people around to make you feel at ease but where 12 people may constitute a crowd. Bequia has the perfect balance of being off the beaten track with just enough development to make life easy. There are no vendors hassling you to buy one of the usual tourist souvenirs, but you can find a nearby bar or restaurant on the main beaches to quench you thirst and satisfy your appetite. Bequia has it all, friendly and unspoilt where the locals still chat to you and always with a smiling face.
Bequia's Beaches
Princess Margaret
Formerly called Tony Gibbons but renamed Princess Margaret after she swam off the beach in the late 1950's. This is our favourite beach, pristine and unspoilt where we can still find days when we have the entire beach to ourselves.

The beach is gently sloping with fine white sand and crystal clear calm waters. Views are spectacular looking out over the bay. Jack's Bar has discreetly been built on the northern end of the beach and is a great venue for a lunchtime drink and food. The beach is now connected to town via the newly constructed Princess Margaret Trail. Snorkelling can be excellent around both headlands either side of the beach. 5 minutes by car or a 20 minute walk from Tropical Hideaway.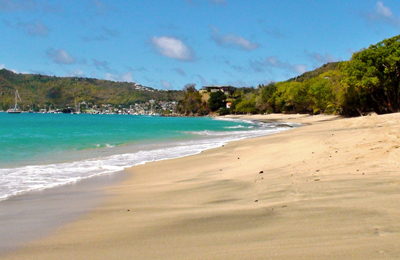 Lower Bay
Another stunning beach and just a short walk away over the headland from Princess Margaret. This is our second favourite beach and there are several small bars and restaurants dotted along the small road that runs parallel to the beach. This is the Sunday afternoon 'limin and chillin' beach and you can often find impromptu 'Jump Ups' and music playing at De Reef and some of the other local bars. Allow 25 minutes to walk from Tropical Hideaway or 5 minutes by car.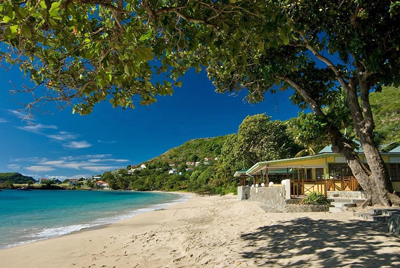 Friendship Bay
A lovely white sand beach bordered by the Bequia Beach Hotel. The beach is on the windward side of the island so the water is a little rougher than the protected Admiralty Bay. You can walk to this beach in around 30 minutes from Tropical Hideaway and the Beach Hotel makes a good lunchtime stop.
Port Elizabeth
The main harbour beach is in Port Elizabeth (town) and is usually busy will local boats either being stored or having some work done to them. It is an interesting walk along the beachfront and inevitable you will end up talking to someone about Bequia, it's boat building tradition or the days fishing.
Belmont Beach
A thin strip of white sand separating the water from the restaurants and bars along the beach. The Belmont Walkway has recently been restored and this lovely boardwalk provides easy access to this beachfront area. The dive shops use this area for scuba training and as you walk to the southern end of the walkway the beach widens out to a lovely area in front of the Plantation House.
Industry Bay – Crescent Beach
A nice beach with Sugar Reef restaurant at the end. An outer reef protects the bay and the snorkelling can be good. The water can be a little weedy in places. The beach is usually empty and the restaurant and bar make it a good lunchtime stop. Some people walk to this beach have lunch at the restaurant and catch a taxi back. Allow 1 hour to walk or 15 minutes by car.
Spring Bay
Another nice beach on the windward side of the island and you can usually have this beach all to yourselves. The beach is next to Crescent Beach and is protected from rough waves by an outer reef.
Hope Beach
If you enjoy walking, the walk to the beach is lovely. Expect to find yourselves the only ones there as this beach is usually deserted. The wind and waves can be rough so be careful swimming and always go with someone else.
Ravine Bay
Rugged. Beautiful and seldom visited. The bay is on the windward side and has it's own blowhole. Waves can be large so be careful when swimming and always go with someone else.
Adams Bay
This lovely white sandy beach can be found as you travel beyond the airport going towards Moonhole. There is a small up market housing development here called Baie de Sucre. It looks a great swimming spot but we have never swam here ourselves so be cautious when swimming and always go with someone else.