Group Bookings
'EXCLUSIVE' Small Group Bookings (Minimum 3 rooms for 3 nights)
Exclusivity for under $100 US pppn
We are often asked about small group bookings with exclusivity and are happy to offer 3 or more room bookings, sleeping from 2 to 12 guests, with the privacy, ambience and luxury you require. Simply book the 3 to 5 accommodations you prefer for a minimum of 3 nights and enjoy all of the facilities at Tropical Hideaway on an exclusive basis with no other guests on site. We do not charge any extra for this service and are happy to offer this exclusivity to small group bookings as we know these once in a lifetime occasions are often celebrating a special event, or a family and friends reunion. We recognize the effort and time in organizing these 'special events' and want to make sure your stay at Tropical Hideaway is an unforgettable experience that everyone will remember and cherish for many years to come.
Exclusivity for you, your friends and your family
Very flexible accommodation and booking choices
Remote island luxury with friendly service and local colour
Jaw dropping views that will literally take your breath away
All rooms have private kitchens, verandas and en-suite facilities allowing you the convenience and privacy of having your own accommodation and to socialize with family and friends when you please
Stunning Infinity Pool rated by the 'Times' as one of the top ten private Infinity Pools in the Caribbean
Onsite licensed shop selling food, fish and meats, beverages, wine and beers and all at local shop prices
Can you imagine having all of Tropical Hideaway exclusively for you, your friends and your family. Simply choose your preferred accommodation and enjoy luxury and privacy at exceptional prices. Ideal for families and small groups of friends celebrating a special occasion or enjoying a family reunion.

Please note:
3 room bookings with exclusivity are available from May to October
4 room bookings with exclusivity are available in November and April
5 room bookings with exclusivity are available from December to March
The Christmas period has a minimum of 7 nights and 5 rooms for group bookings with exclusivity
Exclusivity specials can be offered for smaller groups, but you will have to book the minimum number of rooms required to have exclusivity with no other guests on site
All prices are per room, per week and in USD unless otherwise stated
Minimum stay is 3 nights unless otherwise stated
All prices are subject to 10% government tax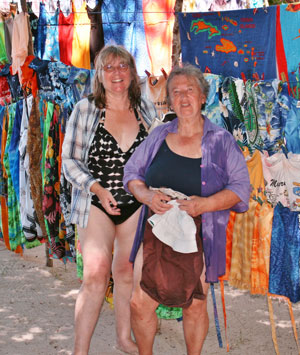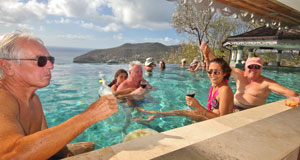 ---
"Wedding of our dreams"

My husband and I were recently married in Bequia and we rented all 5 rooms at Tropical Hideaway for us and our immediate family. It is truly hard to find words to describe how much we enjoyed our stay!! The owners, Martin and Julie, were incredible hosts who picked us up from the ferry/airport and brought us up to the villa. When we arrived at the villa, Martin was quick to provide us with his own special rum punch (definitely recommended!) and then take us on a tour of the different rooms. When we got our first glimpse of the pool we knew we had made the right choice! Absolutely stunning! The infinity pool is one of the nicest pools I've ever seen in my life. Others in our party were also quite taken with the poolside daybed!
We spent a total of 8 nights together as a group and spent most of our time hanging out by the pool. When the big day arrived – Martin and Julie were absolutely incredible making sure that we had everything we needed and decorating the dinner table, etc. They truly went above and beyond. We had wedding photos taken by the infinity pool and on the grand staircase and they are spectacular! We can't imagine staying anywhere more beautiful and with such gracious hosts!! We are already talking about coming back for an anniversary celebration!
Guest reviews allow you to find out about Tropical Hideaway from the guest's perspective and here you can read every review in full, ever written about our Group Bookings. READ OUR REVIEWS